UUMUN organises a variety of different events every year for students from many different study backgrounds. During these events, gaining and improving soft-skills is always placed at the centre. Think of lobbying, negotiating, writing and speeching skills that we train during these sessions. These skills are proven to be valuable in many different situations, and in all kinds of different career fields. We make sure our attendees go home with newly acquired insights, a smile and more confidence! Scroll down to find more information about the events we organise in the upcoming months! 
Do you want to organise an event or Masterclass together with UUMUN for the students at your (high) school or faculty? Click here for more information! 
UUMUN talks: India's decade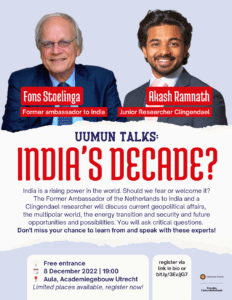 India is a rising power on the world stage. Should we fear or welcome it?
Experts in current world affairs share their valuable insights and engage in a conversation with us.
Are you interested in India's international relations and the future of India? Do you want to engage in a discussion about one of the biggest upcoming countries? Then make sure you attend our event! Click on the button 'register' to save the date and receive more information about the speakers, location and further topics.
Road to Sustainability: Pels Rijcken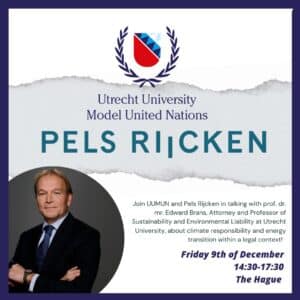 Op vrijdag 9 december wordt UUMUN's Road to Sustainability afgetrapt met een bezoek aan landsadvocaat Pels Rijcken! We horen onder andere een lezing van prof. dr. mr. Edward Brans, Sustainability and Environmental Liability Professor te Universiteit Utrecht en Advocaat bij Pels Rijcken. Ben jij geïnteresseerd in klimaataansprakelijkheid binnen het recht, of wil je je pleit-kunsten verder ontwikkelen binnen het kader van de energietransitie? Meld je dan nu aan!
De dag begint om 14:30 en eindigt om 17:30 met een kantoorborrel. Aanmelden kan via deze link: https://forms.gle/H71BuDE9YvVsxtPs8. Vragen? Mail dan naar mailto:partners@uumun.nl of bel tel:+31612802401.