UUMUN organises a variety of different events every year for students from many different study backgrounds. During these events, gaining and improving soft-skills is always placed at the centre. Think of lobbying, negotiating, writing and speeching skills that we train during these sessions. These skills are proven to be valuable in many different situations, and in all kinds of different career fields. We make sure our attendees go home with newly acquired insights, a smile and more confidence! Scroll down to find more information about the events we organise in the upcoming months! 
Do you want to organise an event or Masterclass together with UUMUN for the students at your (high) school or faculty? Click here for more information! 
UUMUN Info-Night the 29th of March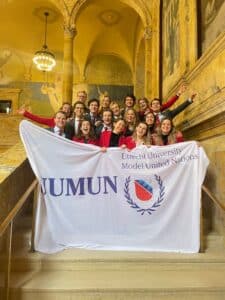 The UUMUN Info-Night the 29th of March is thé moment to meet the delegates of UUMUN and to get in-depth knowledge on what the organization encompasses. A mini-training will be provided, there is plenty of time for questions and the evening will be concluded with free drinks at the Dikke Dries Oost! See you there!!